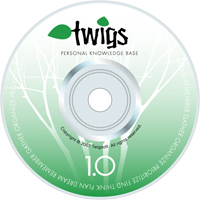 Twigs Lite Edition
The Lite Edition of our most popular software package, Twigs 1.0 Standard Edition, is a great introduction to the world of information management. While it doesn't have all of the features contained in the standard version, Twigs Lite still provides you with all of the list management and personal organizational tools you need to start building your own Personal Knowledge Base today.
Twigs Lite Edition is available in a fully functional 30-day free trial. Download the trial now and be sure to visit InfoLists.com for a head start on putting information to work for you.
Price: $29.95
Order Online Now!
or Try the 30-day Free Trial!
Included Features:
Twigs Standard Lists, Checklists, To-Do Lists, Notes, TwigBoard (limit 1 panel), Basic Journals, Search, and more...
Software Specifications and System Requirements:
Operating System: Windows XP (Service Pack 3), Windows Vista, Windows 7
Version: Twigs Lite 1.06
Download Size: 49.72 MB
Recommended Free Disk Space: 200 MB